To find and keep a lead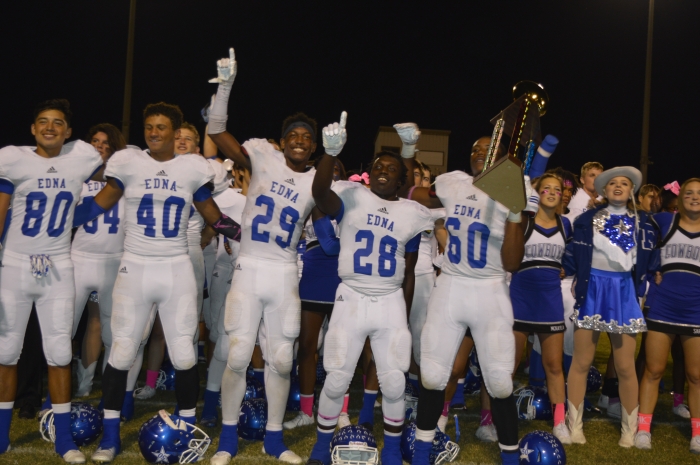 It was a cool Friday night for a cool win when Edna prevailed over Vanderbilt at Cobra stadium, 38-20. Both teams were ready and jumping with enthusiasm for the county rivalry, and claim to the third annual Lavaca River Showdown trophy for another year.
    "It's always a different level of energy brewing in us when it's Edna week," Cobra Logan Gabrysch said. "Coach (Kensey) Allen said if we are true Cobras there was no need to get us pumped us, we were already there."
    Cowboy Zane Strickland said it's always about bragging rights. "Especially being a senior, games like that for us are about who's going to walk away from that field and forever say 'we beat them at our last game.' It feels amazing to know I will have that with me forever."
    County fans were swept up with the football drama because each team found a lead over the other twice within the four quarters. Both sides of the stands were full with blue, maroon and pink in support of cancer awareness.
    "Seeing everybody out supporting shows how close these towns are to one another, and how dedicated they are to their team," Gabrysch said. "I can't explain how happy I am to be a Cobra and have fans like the ones we have."
    Although the ball didn't see the air much, the Cobras topped 200 yards rushing for the game, and the Cowboys rushed over 300 yards.
    Industrial started the game right by recovering their own opening kickoff and promptly ran the ball down the field. Their opening drive was finished off when Cobra Avery Milner ran in a 12-yard touchdown run with 9:11 left in the first quarter and the extra point by Cobra Alberto Pineda.
    With three minutes left in the first, Edna answered back with a 32-yard field goal kicked by Cowboy Ronaldo Saenz. That cut the Industrial lead to 7-3.
    The Cobras fired back when quarterback Gabrysch kept the ball on the option, and split the defense for a 67-yard touchdown run. After the extra point was good by Pineda, the first quarter ended with the Cobras leading 14-3.
[more]